Vaşington Eğitim Müşavirliği
15th JULY, VICTORY OF DEMOCRACY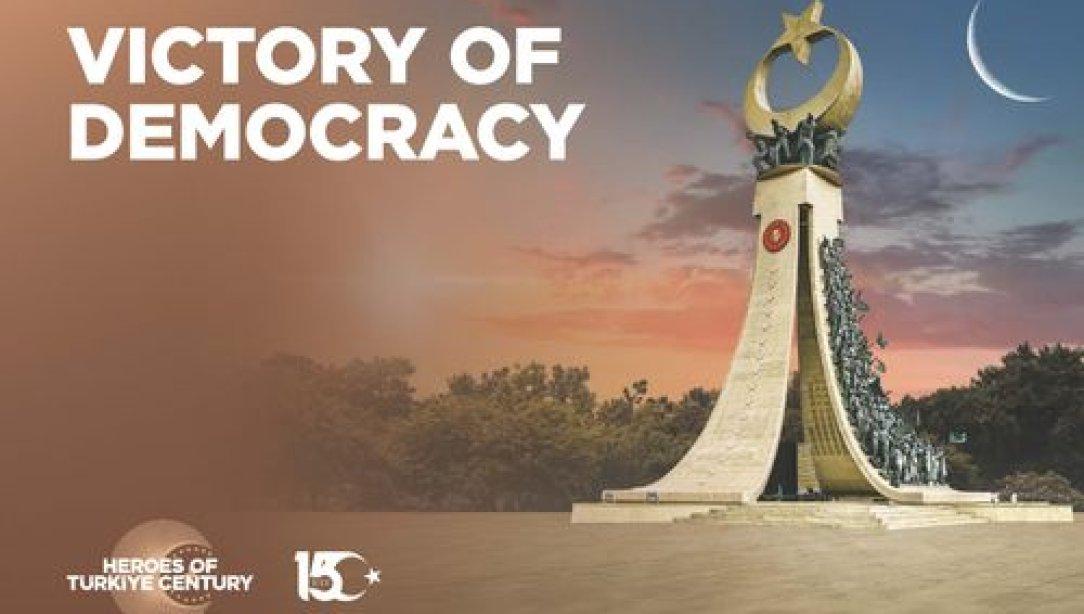 Victory of Democracy!
What happened on 15th July 2016:
At around 10 p.m. on Friday July 15, a group of officers within the Turkish army associated with the Fetullah Terrorist Organization (FETO) launched a coup attempt at the General Staff Headquarters that was suppressed after almost 22 hours. 
Th e scene which Turkey woke up to on the morning of 16 July was tragic. What occurred was a night of terror under the wrath of helicopter gunships, tanks and F-16 jets. The events resulted in the death of 251 people and left over 2740 maimed or wounded. The bombing of the Turkish parliament, the Presidential Complex and the police headquarters will go down as firsts in history. The coup attempt, which was organised by a group of soldiers who also held parallel membership with the Fetullah Terrorist Organization (FETO), aimed to assassinate President Recep Tayyip Erdoğan and replace both the constitutional order and parliamentary democracy with a military junta. Things began to change when President Erdoğan called on the people to take to the streets. Tens of thousands of unarmed civilians poured into the streets to protect Turkish democracy and its legitimately elected government. The success of the Turkish people's resistance in the face of a military coup stands as a unique example in human history. This was not only the bloodiest coup attempt in Turkish history but also the most organised terrorist attack, which Turkey had ever been subject to. In the face of this brutal attack the resistance of the Turkish people won the admiration of foreign observers. US Vice President Joe Biden, on a visit to Turkey after the 15 July coup attempt, referred to the coup attempt as "Turkey's 9/11." Likewise US President, on that time, Obama said: "This coup was serious. You had members of the military engaging in treasonous acts against a democratically elected government. What was encouraging was the degree to which the Turkish people, including those who were opposed to President Erdoğan, [were] stepping up and saying this is unacceptable."
Source: https://www.tccb.gov.tr/assets/dosya/15Temmuz/onsorudafeto_tr_en.pdf
More about Turkish People's Victory of Democracy:
https://www.tccb.gov.tr/assets/dosya/15Temmuz/15temmuz_en.pdf
Watch : https://www.tccb.gov.tr/assets/video/2016/2016-09-22-15Temmuz-02-tr.mp4
Yayın Tarihi:14.07.2023